Description
ALL-IN-ONE OMNI STATION
DEEBOT X1 OMNI provides you a totally hands-free experience with the industry-first All-in-One OMNI Station.
AUTO-CLEAN
An ultimate hands-free solution that separates clean water and sewage, supports the automatic washing & drying of mop cloths and replenishes clean water by itself.
AUTO-EMPTY
Strong suction power with up to 21 kPa, it takes only 10 seconds to automatically empty the DEEBOT dustbin. The large 3L disposable dust bag can be used for up to 60 days.1
AUTO WATER REFILL
The OMNI Station can clean itself with one tap, without the need for frequent disassembling and washing.
HOT AIR DRYING
After cleaning, the heating device can rapidly dry the cleaned mopping pad to prevent bacteria and odor.
4-STAGE DEEP CLEANING SYSTEM
Equipped with Dual Side Brushes, a Floating Main Brush, 5000Pa Suction Power and the OZMO™ Turbo 2.0 Rotating Mopping System, DEEBOT X1 OMNI offers integrated sweep, suction, and strong mop for a deep and efficient clean, ensuring no stubborn stains remain.
OZMO™ TURBO 2.0
The unique OZMO™ Turbo 2.0 Rotating Mopping System, equipped with rotates up to 180 times per minute for deep cleaning.
5000PA SUCTION POWER
The suction power is increased by 230% to 5000Pa for a lasting clean, and effectively vacuum dust off of both hard floors and carpets.
AIVI™ 3D
AI computing power and an astrophotography-grade RGB camera with autopilot technology enhance obstacle avoidance, and human recognition capabilities.
TRUEMAPPING 2.0
The optimal TrueMapping 2.0 technology can easily create and save a map of your home and navigate it quickly and efficiently.
YIKO VOICE ASSISTANT
The all-new AI voice control technology helps you guide DEEBOT to start its cleaning job effortlessly.
BUILT-IN VOICE CONTROL
It is the first ECOVACS vacuum robot with voice assistant and sound source localization technology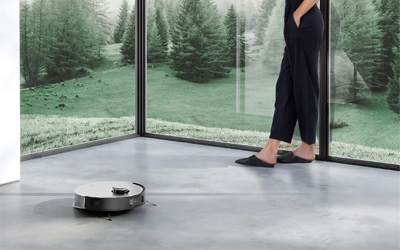 FOLLOW MY VOICE
Simply activate your smart robot with 'OK YIKO'.
JACOB JENSEN DESIGN
Curated by the award-winning design consultancy JACOB JENSEN DESIGN, DEEBOT X1 OMNI is a premium and fashionable robotic vacuum & mopping cleaner that fits perfectly into your home.